Victor Enns Presenting Love & Surgery
October 3, 2019 @ 6:00 pm

-

8:00 pm

free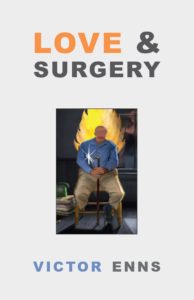 Join us at Massy Books as Victor Enns reads from his fifth collection of poetry, Love & Surgery.
Love and Surgery is the third book in the trilogy Life Series. In this collection the poet describes life events in three acts: the magical courtship and marriage to a woman he met by chance, the subsequent devastation and loss of his third wife and the amputation of his leg after years of suffering with a congenital deformity. It is an elegy to love, loss and letting go. The poems exist in a kaleidoscopic landscape before concluding with a beautiful homage to Mary Oliver and an acceptance of the existence of psychic and physical pain as a part of life.
Victor Enns was born in Winnipeg in 1955 and raised in southern Manitoba. He graduated from the University of Manitoba in 1979 with a History/English major including the advanced creative writing workshop with Robert Kroetsch, which led to the publication of his first poetry collection, Jimmy Bang Poems (Turnstone 1979). A founding Board member of the Manitoba Writers' Guild, he was the Executive Director of the Saskatchewan Writers' Guild from 1982 – 1988 and founder of Windscript magazine featuring the literary and visual art of Saskatchewan high school students. Correct in this Culture (5th House) was published in 1985. He spent the next 20 years in arts administration and raising a family taking time out to found Rhubarb magazine, a literary and visual arts magazine for writers and artists of Mennonite descent in 1998, returning as executive editor in 2012. His most recent collection, Afghanistan Confessions, poems in the voices of Canadian soldiers, was released in November 2014. boy, was published by Hagios Press in Regina in 2012. Lucky Man, (Hagios, 2005) was nominated for the McNally Robinson Manitoba Book of the Year Award.