The Causes – Cathy Stonehouse Book Launch
October 4, 2019 @ 7:00 pm

-

9:00 pm
Join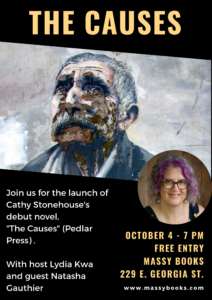 us at Massy Books for the launch of Cathy Stonehouse's debut novel "The Causes."  (Pedlar Press)With host Lydia Kwa and guest reader Natasha Gauthier.
October 4//7pm
Free Entry
Cathy Stonehouse was a teenager in the UK when Argentina invaded the Falkland Islands. Opening salvos in April 1982 would go on to become a 74-day war over who owned the British-held territory in the southernmost reaches of the Atlantic Ocean. Stonehouse, a young peace activist, was deeply affected by living in a country at war, one that seemed to happen only on television. Thirty years later, she began work on The Causes. This complex and unsettling debut novel follows the young Argentine conscript José Ramirez from his torture on the bleak plains of the Falklands, back into his childhood in pre-revolution Argentina, and forward across continents as he grapples with the loss of his father and his country as he knew it. Carlos Ramirez is taken by force from his apartment, leaving behind only a pair of broken glasses. His son, Jose, is left with unanswerable questions that become threatening after Jose is sent to the Malvinas to fight an impossible war. Mysterious, gripping, poetic and magic-realist, The Causes is a love story for a threatened planet, set in Argentina, Spain, the UK, and the South Atlantic.
Lydia Kwa lives and works in Vancouver as a clinical psychologist and a writer. She went to University of Toronto to do a Bachelors of Science degree in Psychology, then spent 7 years at Queen's University in Kingston getting her MA and PhD. While at Queen's, she started to take her writing more seriously and would drop into a writers' group that met on the top floor of the Grad Club on Monday nights. In 1989, the poems she submitted to two campus periodicals won prizes. It was also the year her poems were first published in a Canadian literary magazine: CV2 out of Winnipeg, Manitoba.
Today, Lydia works out of her own office as a full-time psychologist at the edge of Chinatown and the Downtown Eastside in Vancouver. She has several published books, including: This Place Called Absence, The Walking Boy, Pulse, and her latest work— sinuous, a long poem that spans about fourteen years, and covers various experiences of living in Canada, including her reflections on the nature of trauma, the resilience of the human spirit, and the healing that comes from practices such as meditation and ki aikido.
Natasha Gauthier is a Metis/mixed-heritage writer and visual artist living on unceded Coast Salish territory in Cloverdale, BC. Her writing has previously appeared in The Malahat Review, Pulp Magazine, The Capilano Review, Prairie Fire & CV2's joint "ndncountry" issue, and Poetry is Dead. Some themes she explores in her work are hybridity & consciousness, lack of place/otherness, Metis identity, gender, addiction, and the absurd.
This event is taking place on the unceded territories of the Musqueam, Squamish and Tseil-Waututh Nations.
Massy Books' downstairs event space is accessible! You can view the floorplan here: http://www.massybooks.com/accessibility/
Please feel free to reach out with any inquiries.
Massy Books is easily accessible by transit! Close to the 22, 3, 8 and 19 bus lines at Main and Georgia/Gore and Georgia. There is metered street parking along Georgia, or lot parking at the Sun Wah Centre around the corner (268 Keefer).