Launch: The Length of This Gap – Kristen E. Nelson and Guests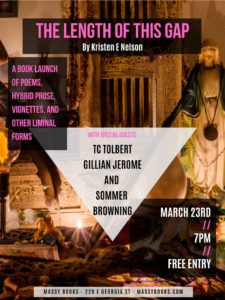 Join us for an exciting evening of poetry, hybrid prose, vignettes, and other liminal forms at the launch of Kristen E Nelson's The Length of This Gap.
March 23rd, 7pm // Free Entry
Praise for The Length of This Gap:
"Death is not always tragedy, but then again, neither is love – its encounter, its ennui, its wound. Kristen Nelson's the length of this gap revels in passionate ambivalence, gliding between emotions without netted hearts to catch her fall. Oh foolish bravery! Sorrow becomes lust and lust becomes abandonment, and Nelson makes me want to be bolder, hotter, sexier – and I crave. These poems persuade my addiction." —Lily Hoang 
"One of the most powerful, breathtaking bodies of poetry fortifying the will to survive.  I am an enormous fan of Kristen Nelson's poems and am always excitedly anticipating the next poem showing me the better parts of our species and how to love and thrive!" —CA Conrad
About the Author:
Kristen E. Nelson is a queer writer and performer, literary activist, LGBTQ+ activist, and community builder. She is the author of the length of this gap (Damaged Goods, August 2018) and two chapbooks: sometimes I gets lost and is grateful for noises in the dark (Dancing Girl, 2017) and Write, Dad (Unthinkable Creatures, 2012). Kristen's poem "After the Crotalus atrox" was anthologized in The Sonoran Desert: A Literary Field Guide and nominated for a 2016 Pushcart Prize by University of Arizona Press. She has published work in Bombay Gin, Denver Quarterly, Drunken Boat, Tarpaulin Sky Journal, Trickhouse, and Everyday Genius, among others. Kristen is the founder of Casa Libre en la Solana, a non-profit writing center in Tucson, Arizona, where she worked as the Executive Director for 14 years. She Earned her MFA in Creative Writing in 2011 from Goddard College, and her BA in English Literature with minors in Marine Science and Biology in 2000 from The University of Tampa. Kristen has been a creative writing instructor since 2010 and has taught at Naropa University, UA Poetry Center, STEP College Prep Program, and Pima Community College. She specializes in teaching Personal Narrative Essay Writing, Text/Image Collaborations, and Divinatory Poetics.
www.kristenenelson.com
TC Tolbert often identifies as a trans and genderqueer feminist, collaborator, dancer, and poet. And, s/he's a human in love with humans doing human things. S/he is Tucson's Poet Laureate and author of Gephyromania (Ahsahta Press 2014), 4 chapbooks, and co-editor of Troubling the Line: Trans and Genderqueer Poetry and Poetics (Nightboat Books 2013). www.tctolbert.com
Gillian Jerome lives and works in Vancouver where she's writing a third collection of poems. She teaches at UBC.
Sommer Browning writes poems and draws comics in Denver. She is the author of EVERYTHING BUT SEX (Low Frequency Press, 2017), WANT TO HEAR ABOUT THIS DREAM I HAD (Reality Beach, 2017), YOU'RE ON MY PERIOD (Counterpath, 2016), THE CIRCLE BOOK (Cuneiform Press, 2015), BACKUP SINGERS (Birds, LLC, 2014), PRESIDENTS AND OTHER JOKES (Future Tense Books, 2013), and EITHER WAY I'M CELEBRATING (Birds, LLC, 2011). She is the founder of GEORGIA, an artist run art space, and works as a librarian.