Readings for the Release of Water & Power by Stephen Dunn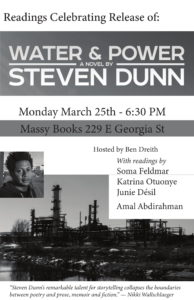 Join Massy Books as we host a night of readings celebrating the launch of Stephen Dunn's Water & Power.
Shortlisted for Granta magazine's "Best of Young American Novelists," Steven Dunn is the author of two novels from Tarpaulin Sky Press: water & power (2018) and Potted Meat, which was co-winner of the 2015 Tarpaulin Sky Book Prize and finalist for a Colorado Book Award. Steven was born and raised in West Virginia, and after 10 years in the Navy he earned a B.A. in Creative Writing from University of Denver. He is currently an MFA candidate at Goddard College, and on the faculty at Regis Univerisity's Mile High MFA.
Soma Feldmar is slowly making her way back to poetry, or something, after a traumatizing English PhD experience. Her one book, "Other," was published in 2009, the year her PhD degree work began, by CUE Books. She hopes there will be another one. Since returning to the Vancouver area in May 2018, Soma has been looking for steady work while being an extra in the Film & TV industry, bartending, and doing the odd editing / consulting job.
Katrina Otuonye is a writer, editor, and educator from Michigan's Upper Peninsula. She holds a BA from the University of Tennessee and an MFA from Chatham University. She presented a pedagogy proposal at the Sorbonne as part of the &Now Festival and has taught courses in Pittsburgh, Cookeville, Nashville, and Wuhan, China. She often writes about personal experiences alongside her interests in art history, health disparities, and superheroes. Katrina's fiction and nonfiction have appeared in publications such as Atticus Review, Brevity, Tarpaulin Sky Magazine, Crab Orchard Review, and The Toast, among others. She is a 2018-2019 Hugo House Fellow, a fiction editor at Pacifica Literary Review and was recently the Guest Editor of the Black Lives Matter Special Issue of Wild Age Press. You'll find more of her work on her portfolio at katrinaotuonye.com.
Junie Désil is a Haitian/Canadian settler poet who has performed at various literary events and festivals. Her work has appeared Room Magazine, and was recently shortlisted for Prism International's Pacific Poetry Prize, and has work currently published in PRISM International's Summer 2018 Issue. Junie currently works on the traditional territories of Coast Salish peoples and lives on Qayqayt First Nation (New Westminster), juggling writing and life.
This event is taking place on the unceded territories of the Musqueam, Squamish and Tseil-Waututh Nations.
Massy Books' downstairs event space is accessible! You can view the floorplan here: http://www.massybooks.com/accessibility/
Please feel free to reach out with any inquiries.
The event is all-ages, but we will have beer and wine available for purchase.