Woo: The Monkey Who Inspired Emily Carr Launch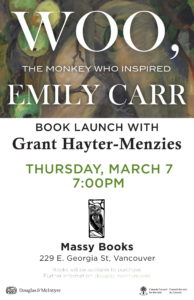 In 1923, Emily Carr—a fifty-one year old unfulfilled artist by night and harried landlady by day—walked into a Victoria pet store and traded one of her dogs and $35 cash for a young macaque. For the next fifteen years, Woo would become one of Carr's most beloved companions and essential influence on Carr's artistic legacy, which is still revered today across the globe.
Now chronicled in a stunning new book by acclaimed biographer Grant Hayter-Menzies, "Woo, the Monkey Who Inspired Emily Carr" is a compassionate and thoughtful look into Woo, the politics that surrounded (and still surround) the keeping of wild animals, and a celebration of the wondrous, but tragically short, life of Woo herself.
Please join us at Massy Books on Thursday, March 7 for an intimate reading and discussion, followed by a book signing. Bring your friends!