The Art of Leaving Launch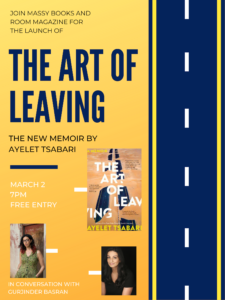 Join Massy Books and @
Room magazine
for the Vancouver launch of Ayelet Tsabari's The Art of Leaving, in conversation with Gurjinder Basran.
An intimate memoir in essays by an award-winning Israeli-Canadian writer who travels the world, from New York to Vancouver to India, searching for love, belonging, and an escape from grief following the death of her father at a young age.
Ayelet Tsabari was twenty-one years old the first time she left Tel Aviv with no plans to return. It was not the Intifada or the never-ending conflict that drove her away, but the grief that had shaken the foundations of her home. The loss of Tsabari's beloved father had left her alienated and exiled within her own large Yemeni family and at odds with her Mizrahi identity. By leaving, she would be free to reinvent herself and to rewrite her own story.
For nearly a decade, Tsabari travelled through India, Europe, the US, and Canada, falling in and out of love with countries, men and women, drugs and alcohol, and running away from responsibilities as though her life might go stagnant without perpetual motion. A series of dramatic events led Tsabari to look more closely at her choices, examine her Jewish-Yemeni background and the Mizrahi identity she had once rejected, as well as unearth a family history that had been untold for years — a history marked by generations of headstrong women who struggled to choose between their hearts and their homes. Eventually, Tsabari realized that she must reconcile the memories of her father and the sadness of her past if she was ever going to come to terms with herself.
With fierce, emotional prose, Ayelet Tsabari crafts a beautiful exploration of the lengths we will travel to try to escape our grief, the universal search to find a place where we belong, and the sense of home we eventually find within ourselves.
AYELET TSABARI's debut story collection, The Best Place on Earth, won the Sami Rohr Prize for Jewish Literature and the Edward Lewis Wallant Award. The book was a New York Times Book Review Editors' Choice, was a Kirkus Reviews Best Book, was nominated for the Frank O'Connor International Short Story Award and has been published internationally to great acclaim. Excerpts from The Art of Leaving have won a National Magazine Award and a Western Magazine Award. She is the recipient of a Chalmers Arts Fellowship and a graduate of both the Writer's Studio at Simon Fraser University and the MFA Program in Creative Writing at the University of Guelph. Tsabari teaches creative writing at the University of King's College MFA in Creative Nonfiction and the University of Toronto's School of Continuing Education.
GURJINDER BASRAN's debut novel, Everything Was Good-bye, was the winner of the BC Book Prize, Ethel Wilson Fiction Award in 2011 and named as a Chatelaine Magazine Book Club pick in 2012. Gurjinder was named by the CBC as one of "Ten Canadian women writers you need to read". Gurjinder studied Creative Writing at Simon Fraser University. She lives in Delta, BC with her family.
This event is taking place on the unceded territories of the Musqueam, Squamish and Tseil-Waututh Nations.
Massy Books' downstairs event space is accessible! You can view the floorplan here: http://www.massybooks.com/accessibility/
Please feel free to reach out with any inquiries.
The event is all-ages, but we will have beer and wine available for purchase.