Launch: Minerva's Owl by Carol Matthews
January 22, 2019 @ 7:00 pm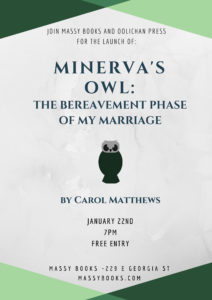 Join Massy Books on January 22nd as we celebrate the launch of Minerva's Owl: The Bereavement Phase of My Marriage by Carol Matthews, from
Oolichan Books
.
For 45 years, Carol Matthews has worked as an educator, writer, researcher, as a voice for social justice, and an advocate for the arts and non-profit sectors. Author of four memoirs—her latest is Minerva's Owl.
Original, startling, and deeply thought-provoking, Minerva's Owl reflects on Hegel's observation that the owl of Minerva, the Roman goddess of wisdom, spreads its wings only at twilight. Understanding comes late in life and, as Hegel suggests, the past cannot be rejuvenated, only known. Part grief memoir, part love story, this account is an exploration of how bereavement after a long-term marriage, can be experienced as part of an ongoing relationship.
Join us for an evening of mingling as we enjoy Carol's thought-provoking reading on her roller-coaster journey of bereavement.
"Carol Matthews has done the remarkable. Of the numerous books that have been written about loss, Matthews has given us an original, startling and deeply thought-provoking work. There is an intimacy to her writing that invites the reader in almost as an eavesdropper. What we hear are our own thoughts and questions. What we are left with is a sense of peace – the kind that comes with the knowledge that, even in the darkest places, we are not alone." ~Eve Joseph, author of In the Slender Margin