Cover Story – Deborah DeJong in the Massy Gallery
September 17, 2019

-

October 15, 2019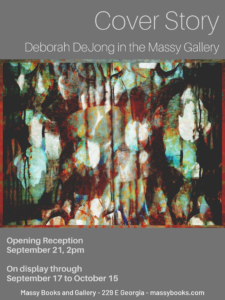 Join us for the opening of Deborah DeJong's Cover Story at the Massy Gallery.
Opening Reception, September 21st at 2pm
Exhibiting September 17th through till October 15.
This visual show invites the viewer to get 'under the covers,' to intentionally consider any words that emerge from the mind in the encounter with the work.
It acknowledges the complexity of what we see; it invites us to 'read' past the 'headlines' of an image and become receptive to connecting with elements below its—and our—surface.
This show invites the viewer to act, and more specifically, to WRITE: express; be moved; comment; be piqued; engage; be enflamed.
In fact, this show presents the viewer with the impetus to scribe not only a few words or phrases, but to draft a full-on poem! Intended as the footing for an entire poetry session in mid-October, poems that are submitted will be read aloud (by you, the poet, if you so choose, or a volunteer—we've got you covered) on the evening of Wednesday, October 16th, right here at Massy Books.
Deborah DeJong, a photographer with a daily drawing discipline, secretly writes the occasional poem in her spare time. A one-time elementary school teacher who's been on a long recess, soon she'll be getting back to class! Attending Poet's Corner, a monthly gathering held here at Massy Books, satisfies DeJong's artistic urges on two levels: the poetic, and the photographic. Having had her images featured in numerous group shows over the past few years, Cover Story is DeJong's first solo show.
This event is taking place on the unceded territories of the Musqueam, Squamish and Tseil-Waututh Nations.
Unfortunately, Massy Books' upstairs event space is not wheelchair accessible.
Massy Books is easily accessible by transit! Close to the 22, 3, 8 and 19 bus lines at Main and Georgia/Gore and Georgia. There is metered street parking along Georgia, or lot parking at the Sun Wah Centre around the corner (268 Keefer).