Verses Festival of Words with Andrea Gibson!
April 17, 2018 @ 7:00 pm

-

8:30 pm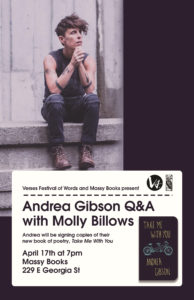 In "Take Me With You", Andrea Gibson explores themes of love, gender, politics, sexuality, family, and forgiveness with stunning imagery and a fierce willingness to delve into the exploration of what it means to heal and to be different in this strange age. Illustrated throughout with evocative line drawings by Sarah J. Coleman, this book is small enough to fit in your bag, with messages that are big enough to wake even the sleepiest heart. Divided into three sections (love, the world, and becoming) of one liners, couplets, greatest hits phrases, and longer form poems, it has something for everyone, and will be placed in stockings, lockers, and the hands of anyone who could use its wisdom.
Andrea Gibson has proven to be one of the most quotable and influential poets of our time and has made a career at the forefront of the spoken-word movement. Gibson was the first winner of the Women's World Poetry Slam and has headlined prestigious performance venues all over the country and abroad. Gibson regularly tours, performing poetry that focuses on gender norms, politics, social reform, and the struggles LGBTQ people face in today's society. A devoted fan base sees Gibson's work as a rally cry to action and a welcome mat at the door of the heart's most compassionate room. Born in Calais, Maine, Gibson now resides outside Boulder, Colorado.
Event moderated by Molly Billows:
Molly is swift waters, secrets, and salal berries. Northern Coast Salish from the Homalco Nation, they were adopted-out and grew up in and around Victoria. They has been living as a visitor in Vancouver, on the territories of the Musqueam, Squamish and Tsleil-Waututh Nations since 2011.
They are a queer, mixed, urban, Indigenous feminist, a spoken word poet, facilitator and a youth worker. Molly hopes to weave together stories in ways that lift up their communities, and contribute to collective healing, rage, resurgence and love.
Praise for Andrea Gibson and Take Me With You
"Surprising and powerful."—The Millions
"Andrea Gibson's work is imbued with the unfettered honesty and beautifully rendered language that made them a pioneer in the spoken word community. Their work does not apologize for existing at the intersections. It holds complicated truths together and rejects the false choice of artist or activist. In many ways, my work is only possible because of theirs, and we are so fortunate that they continue to create art and put it out into the world."—Clint Smith
"Gibson is a truly American poet, or rather, they represent the America I want to live in. Their work lights a candle to lead us where we need to go."—Cristin O'Keefe Aptowicz, author of Dr. Mütter's Marvels
"Take Me With You provides readers a glimpse into their inner-musings in… bite-sized pieces." —Queen Mob's Tea House
"Gibson does not just show up to pluck your heart strings. They stick around to tune them. If being floored is new to you, ya might want to grab a cushion. Whatever the opposite of fooling someone is, Andrea does that. Beware of the highway in their grace and the crowbar in their verse."—Buddy Wakefield, author of Gentleman Practice
"Gibson's work is at once deeply haunting and profoundly inspiring. Their words cut so sharply and completely they cannot be shaken. To call them one of the best poets is a gross understatement. They are a rare artist who forever changes those who experience their poems."—Carlos Andrés Gómez, author of Man Up
"I have the luxury of being friends and working with some of the greatest writers out there today…love, love, love… poet Andrea Gibson."—Tig Notaro
"Fans of Rupi Kaur need not look any further."—Elite Daily
"Gibson contributes to an art raw in emotions, an art that delivers poignant messages on gender, spirituality, war, love, bullying, class. These words have the power to move and enlighten."—Curve
"Gibson works to support the voices that are unspoken and unheard, by imbibing in them the faith that they are never alone."—Eyezine