Eden Robinson in conversation with Cherie Dimaline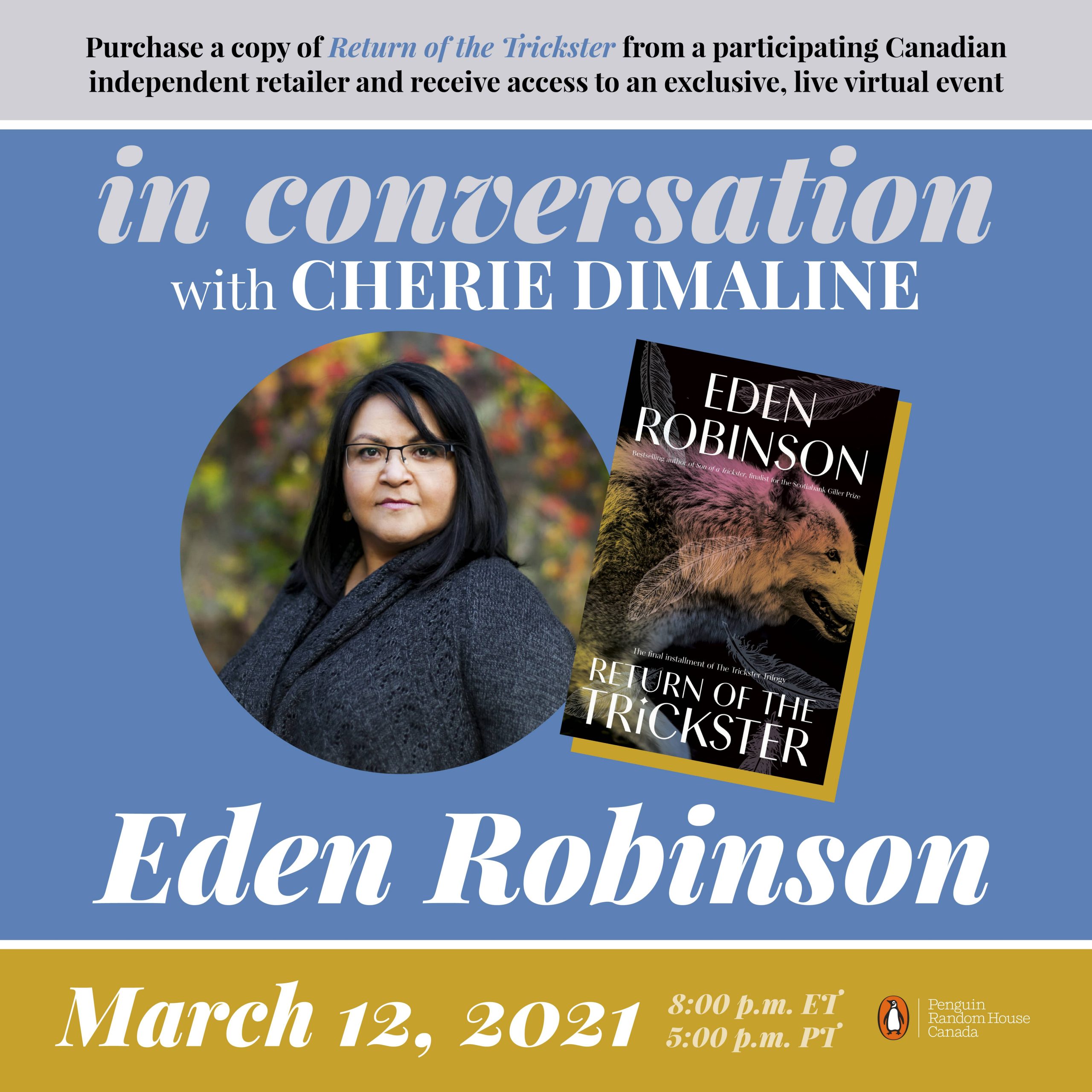 Join us as we welcome Eden Robinson in conversation with Cherie Dimaline! Purchase a copy of Return of the Trickster to receive access to this exclusive virtual event, in partnership with Penguin Random House Canada.
How to Attend: Purchase a copy of Return of the Trickster from independent and Indigenous owned Massy Books to receive access to this virtual event. Open for orders here: https://bit.ly/37FAo5a
About the Book
In the third book of her brilliant and captivating Trickster Trilogy, Eden Robinson delivers an explosive, surprising and satisfying resolution.
All Jared Martin had ever wanted was to be normal, which was already hard enough when he had to cope with Maggie, his hard-partying, gun-toting, literal witch of a mother, Indigenous teen life and his own addictions. When he wakes up naked, dangerously dehydrated and confused in the basement of his mom's old house in Kitimat, some of the people he loves–the ones who don't see the magic he attracts–just think he fell off the wagon after a tough year of sobriety. The truth for Jared is so much worse.
He finally knows for sure that he is the only one of his bio dad Wee'git's 535 children who is a Trickster too, a shapeshifter with a free pass to other dimensions. Sarah, his ex, is happy he's a magical being, but everyone else he loves is either pissed with him, or in mortal danger from the dark forces he's accidentally unleashed, or both. The scariest of those dark forces is his Aunt Georgina, a maniacal ogress hungry for his power, who has sent her posse of flesh-eating coy-wolves to track him down.
Even though his mother resents like hell that Jared has taken after his dad, she is also determined that no one is going to hurt her son. For Maggie it's simple–Kill or be killed, bucko. Soon Jared is at the centre of an all-out war–a horrifying place to be for the universe's sweetest Trickster, whose first instinct is not mischief and mind games but to make the world a kinder, safer, place.
About the Speakers
EDEN ROBINSON has matriarchal tendencies. Doesn't have a pressure cooker, but knows how to jar salmon. Her smoked salmon will not likely kill you. Hobbies: Shopping for the Apocalypse, using vocabulary as a weapon, nominating cousins to council while they're out of town, chair yoga, looking up possible diseases or syndromes on the interwebs, perfecting gluten-free bannock and playing Mah-jong. Be warned, she writes novels and tends to be cranky when interrupted.
CHERIE DIMALINE's young adult novel The Marrow Thieves shot to the top of the bestseller lists when it was published in 2017, and stayed there for more than a year. It won the Governor General's Literary Award, the Kirkus Prize in the young adult literature category, the Burt Award for First Nations, Métis and Inuit Literature, was a finalist for the Trillium Book Award and, among other honours, was a fan favourite in the 2018 edition of CBC's Canada Reads. It was also a Book of Year on numerous lists including the National Public Radio, the School Library Journal, the New York Public Library, the Globe and Mail, Quill & Quire and the CBC. Cherie was named Emerging Artist of the Year at the Ontario Premier's Awards for Excellence in the Arts in 2014, and became the first Indigenous writer in residence at the Toronto Public Library. From the Georgian Bay Métis Community in Ontario, she now lives in Vancouver.