Poets Corner – Emerging Indigenous Poets
January 16, 2019 @ 7:00 pm

-

9:00 pm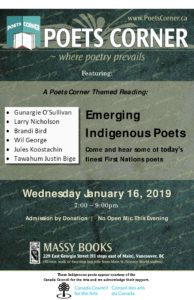 January's event will be a themed reading. This special event has been a long time coming but it will be worth the wait. To kick off 2019, Poets Corner is going to host our very first Emerging Indigenous Poets reading. Younger rising starts in our First Nations community are coming to take over the microphone on January 16. So here is the lineup of talents for January's reading:
Gunargie O'Sullivan is a Kwakwaka'wakw who was born in Alert Bay, BC. However her people originate from Turnour Island and are from the Tlowitsis Nation, a proud and powerful people. She has a long history as a radio broadcaster who has developed community programming that closes awareness gaps on everything from fish farms, to Missing and Murdered Women, to tiny house warriors, to Residential Schools, to Sixties Scoop, and to the poop on politics. She is also a multimedia artist who first explored acting at sixteen before joining the Spirit Song Native Theatre in the mid-80s. After discovering her writing skills several of her poems have been anthologized in the annual series, Gatherings, published by Theytus Publishing. She later began to explore journalism and film. She has produced several short films such as UNsettling, Power of Prayer, and most recently , Demolishing Grief. Ms. O'Sullivan is also the Founder and now Acting Executive Director of the Red Jam Slam Society, which exists to initiate celebrations, events and festivals that feature Aboriginal artists and performers.
Tawahum Bige, Lutselk'e Dene and Plains Cree, Two-Spirit and Nonbinary poet, resides on unceded Musqueam, Tsleil-Waututh and Squamish territory colonially-known-as Vancouver. Published in Red Rising, Prairie Fire, Event, and Poetry is Dead magazines, Tawahum's poetry stokes the sacred fire of resurgence and decolonization on occupied Turtle Island. They've performed on stages including Talking Stick Festival and Verses Festival of Words. In their final year toward a BA in Creative Writing at KPU, Tawahum's poetry collection, Political & Personal, will be published in June 2019 with Metatron Press. Join them on this journey that is both emotionally personal and deeply political.
Jules Koostachin, owner of VisJuelles Productions Inc. is Cree from Attawapiskat and a PhD candidate with the Institute of Gender, Race, Sexuality and Social Justice at UBC. She carries extensive experience working in Indigenous community in varying capacities such as counseling, consulting, teaching and management. Jules, also known as a storyteller and digital media maker, works to honour cultural protocols and build relationships within Indigenous community through her media arts practice. Her artistic endeavours are informed by her experience living with her Cree grandparents in northern Ontario. Her educational presentations utilize her media work to educate on Indigenous realities
Larry Nicholson is Cree from Alberta but has lived in un-ceded Coast Salish territory since 1998 when he began classes at UBC towards his Fine Arts degree (in the Creative Writing Department). He wrote his first poem in 1982 (a LOVE poem), his first song in '88, his first short story in '94, his first play in '96, his first radio drama in '97, his first newspaper article in '99, his first grant proposal for an employer in '99, his first novella in 2000 (passionately thrown in a fireplace in 2001) and his first TV script in 2002. Larry is relieved to finally be emerging
Brandi Bird is a Two-Spirit Saulteaux and Cree poet from Winnipeg, Manitoba, currently living and learning on Musqueam, Squamish and Tsleil-Waututh territory. She has been published in Poetry Is Dead and Pearls, and will be published in Prism early this  year. You can find her on Facebook as Brandi-Ann Oiseau.
These Aboriginal writers are going to blow you away with their poetic talents. Make sure you get a seat early for this reading on Wednesday, January 16 at 7:00pm.