Poets Corner – Ekphrastic Poetry
October 16, 2019 @ 7:00 pm

-

9:00 pm
The October reading at Poets Corner is a first. We are super excited to be hosting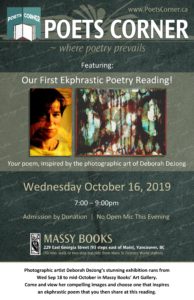 our first themed reading focused on ekphrastic poetry. As you know, ekphrastic
poetry is inspired by a work of art, whether a painting, a sculpture, or another
medium.
We are delighted to have photographic artist Deborah DeJong's solo exhibition as
inspiration for your next (or even first) ekphrastic poem! Massy Books' Art Gallery is
hosting Deb's inaugural exhibition from mid-September to mid-October.
As Deb says, 'This exhibition invites the viewer to get 'under the covers,' to
intentionally consider any words that emerge in your mind when you encounter any
of the pieces.'
Starting in mid-September and before the next reading on Wednesday, October 16,
we are inviting all poets to visit the gallery on the mezzanine level inside Massy
Books. Once you have penned your poem inspired by one of Deb's works, you will
have the opportunity to share it at Poets Corner. While you read your poem at the
microphone, the work that inspired it will be projected onto a screen next to you.
The earlier you check out this fascinating exhibition, the more time you will have to
carefully craft a corresponding poem. Please note, in order to read your poem, you
will have to register with the manager at Poets Corner (see below). You won't be
included in the lineup on Wednesday October 16 unless you have registered
beforehand. The deadline to register is:
Sunday, October 13, 2019 at 4:00pm (Pacific Time)
Please include the title of the piece that inspired your poem. Register with:
James Felton
Manager, Poets Corner
james@poetscorner.ca
The Artist:
Deborah DeJong, a photographer with a daily drawing discipline, secretly writes the
occasional poem in her spare time. A one-time elementary school teacher who has
been on a long recess, she will soon be getting back to class! Attending Poets
Corner, a monthly gathering held here at Massy Books, satisfies DeJong's artistic
urges on two levels: the poetic, and the photographic. Having had her images
featured in numerous multi-artist shows over the past several years, Cover Story is
DeJong's first solo show.