Inanna Publications Vancouver Book Launch
June 5, 2019 @ 7:00 pm

-

9:00 pm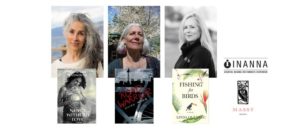 Join us for a celebratory evening featuring:
Mehrnaz Massoudi, author of Never Without Love
Vivian Meyer, author of Road Warrior
Linda Quennec, author of Fishing for Birds
Readings & refreshments served.
Mehrnaz Massoudi was born in Iran and immigrated to Canada in 1983 after the Iranian revolution and in the midst of the Iran-Iraq war. She obtained her Bachelor of Science degree from the University of Guelph, Ontario, and worked as a molecular biologist at Mount Sinai Hospital in Toronto and the University of British Columbia in Vancouver. She integrates her science background with her knowledge of meditation to guide seekers toward new levels of self-love, courage, and inner tranquility. Her memoir, Never without Love, is a profoundly revealing narrative of her own life as an Iranian woman who escaped her beloved, war-torn homeland to find peace in Canada.
Vivian Meyer worked for many years as an educator in a downtown Toronto alternative secondary school, dividing her creative energies between visual arts and the craft of writing. Her first mystery novel, Bottom Bracket, feauturing Abby Faria, a bicycle courier who lives in Toronto's Kensington Market, was published in 2006. Ragged Chain, the second novel in this series, was published in 2009. Road Warrior is the third and new addition to this series. She currently divides her time between Toronto, Canada and Quadra Island in British Columbia. Vivian also writes poetry and dabbles in short stories. When not writing, Vivian enjoys reading, cycling, travelling and spending time with friends and her extended family.
Linda Quennec is a writer, traveller, and PhD student in Depth Psychology. An island-dweller at heart, she took inspiration for her novel Fishing for Birds from the natural beauty of Coastal British Columbia and the fascinating Isla de la Juventud (formerly Isla de Piños) where her German grandmother was raised. She holds an MFA in creative writing from Naropa University, and is a graduate of The Writers' Studio at Simon Fraser University and The Humber School of Writing. Her work has appeared in Quills Canadian Poetry, 3Elements Review, Cirque, Emerge, and DoveTales literary journals. She lives with her husband and twin daughters just outside Vancouver, British Columbia.