Heroine – Gail Scott with Fred Wah & Meredith Quartermain
October 24, 2019 @ 7:00 pm

-

9:00 pm

free
Join us as Gail Scott reads from her classic novel "Heroine," reissued with a new introduction from Eileen Myles. Featuring guest readers Fred Wah and Meredith Quartermain.
A classic feminist novel, resonating in a world of increasing radicalization, featuring a new foreword by Eileen MylesIt's October, 1980, the 10th anniversary of the October Crisis, wh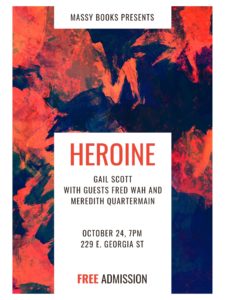 en a radical Quebec group's actions led to the invocation of the War Measures Act. In a bathtub in a rooming house in Montreal in 1980, a woman tries to imagine a new life for herself: a life after a passionate affair with a man while falling for a woman, a life that makes sense after her deep involvement in far left politics during the turbulent 70s of Quebec, a life whose form she knows can only be grasped as she speaks it. A new, revised edition of a seminal work of edgy, experimental feminism. With a foreword by Eileen Myles.
Gail Scott was born in Ottawa and grew up in a bilingual community in Eastern Ontario. She worked as a journalist for several years writing about Quebec culture and politics for The Gazette, as well as contributing to The Globe & Mail and Maclean's. She has been an editor of Spirale and Tessera. Her fiction and criticism have appeared in several journals. She is the author of two novels: Main Brides (1993) and Heroine (1987); Spare Parts, a collection of short stories; and Spaces Like Stairs, a collection of essays. Most recently, she translated Lise Tremblay's Mile End (La danse juive, Lemeac, 1999). She lives in Montréal.
Fred Wah studied music and English literature at the University of British Columbia in the early 1960's where he was one of the founding editors of the poetry newsletter TISH. After many years of teaching in the West Kootenays and at the University of Calgary, he now lives in Vancouver. Diamond Grill (1996) is a biofiction about growing up in a small-town Chinese-Canadian café. High Muck a Muck: Playing Chinese, An Interactive Poem, is available online (http://highmuckamuck.ca/). Some of his collaborations with visual artists were published in Sentenced to Light (2008). Recent books are is a door (2009), Scree: The Collected Earlier Poems 1962-1991, and beholden: a poem as long as the river, a collaboration with Rita Wong (2018).
Acclaimed poet, writer and historian Meredith Quartermain is known across Canada as a writer of urban spaces and an innovator of narrative forms. Her first book, Vancouver Walking, won the 2006 BC Book Award for Poetry. Her second, Nightmarker, was a finalist for the 2009 Vancouver Book Award and Recipes from the Red Planet was a finalist for the 2011 BC Book Award for fiction. Quartermain is a co-founder of award-winning Nomados Literary Publishers.
This event is taking place on the unceded territories of the Musqueam, Squamish and Tseil-Waututh Nations.
Massy Books' downstairs event space is accessible! You can view the floorplan here: http://www.massybooks.com/accessibility/
Please feel free to reach out with any inquiries.
Massy Books is easily accessible by transit! Close to the 22, 3, 8 and 19 bus lines at Main and Georgia/Gore and Georgia. There is metered street parking along Georgia, or lot parking at the Sun Wah Centre around the corner (268 Keefer)