Double Book Launch: Suitcase and the Jar and One Strong Girl
November 29, 2018 @ 7:00 pm

-

9:00 pm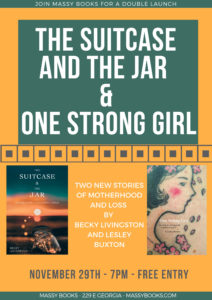 Join Massy Books, Caitlin Press, and Pottersfield Press as we celebrate the double launch of two new stories of motherhood and loss from Becky Livingston and Lesley Buxton.
The Suitcase and the Jar: Travels With a Daughter's Ashes by Becky Livingston tells of the unconventional turn Livingston's lifew takes when a brain tumour takes the life of her twenty-three-year-old daughter Rachel. Rachel, an avid traveller, had one wish: to keep exploring the world.
So, for twenty-six months Livingston travels — untethered and alone — to Italy, Spain, Switzerland, Australia, India, England, Ireland and North America, coast to coast. In her suitcase: Rachel's ashes, heavy but compact. As she gradually merges her daughter's remains with the elements, Livingston learns how to forge a new sense of belonging in an unfamiliar world.
The Suitcase and the Jar is a profoundly moving story of a mother's courage and resilience. It explores an intensely personal yet universal experience: how one finds the strength to reconfigure a new life by necessity.
One Strong Girl: Surviving the Unimaginable, a Mother's Memoir is Lesley Buxton's vivid account of what it is like to lose her daughter, India, to a rare debilitating disease. The story is a bold description of what it means to deal with deep sorrow and still find balance and beauty in an age steeped in the denial of death. At ten, India climbed the highest on the rope at gymnastics, yet by sixteen was so weak she was unable to even dress herself. The narrative follows the six-year fight for answers from the medical community. Finally, after the genetic testing of India's DNA, it was discovered there were two mutations on her ASAH1 gene, a deadly combination. Today her cells are alive in a research lab at the University of Ottawa. This is a legacy that cuts both ways, a point of pride and pain. One Strong Girl is a story of what it's like to outlive an only child. It describes the intensity of loving a dying child and most importantly, the joy to be found, even amidst the sorrow.