Triple Book Launch: Therrien, Thornton, and Zieroth
December 2, 2018 @ 7:00 pm

-

9:00 pm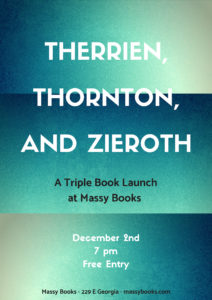 Join Massy Books December 2nd as we celebrate three new titles from award-winning writers: Richard Therrien's Unarmoured Excursions, Russell Thornton's The Broken Face, David Zieroth's The Bridge from Night to Day, from Harbour Publishing and Gaspereau Press ¶ Printers & Publishers.
December 2nd, 7pm
Free Entry
About Unarmoured Excursions by BC Book Prize finalist Richard Therrien:
The eight prose pieces comprising Unarmoured Excursions explore the slippery territory between formal essays and imaginative narrative, each willfully puncturing the barrier between what we experience and what we actually perceive. While descriptive details root his prose in real places and situations, Therrien's mischievous turn of mind prefers to veer off the track of documentary and head into unexplored territory. Whether he's writing the magical realism of a dream, the overheard dialogue of teens in a food court, or the reflections of a man left caring for a vulnerable, nonverbal stranger, Therrien heads for the uncertainty of open ground from which the mingling of the transcendent and the immanent may be observed—or imagined.
Richard Therrien has worked for decades in theatre, film, speech-writing, and editing, publishing poetry and prose in various periodicals, including Grain, The New Quarterly, Prairie Fire, Filling Station, Absinthe, and CV2. His most recent publication is a book of poems, Sleeping in Tall Grass (2016) published by University of Alberta Press, 2016 (Robert Kroetsch Series) which was a BC Book Prize finalist for the 2017 Dorothy Livesay Poetry Award. He lives in North Vancouver, British Columbia.
About The Broken Face by Griffin Poetry Prize finalist Russell Thornton:
The poems in The Broken Face explore a sacramental, imaginative vision within contexts of crime, perception, memory and love. In this collection, Russell Thornton returns to the vital themes of intimacy and family, loss, fear and hope, bringing to each poem the essential quality of a myth or incantation. Reverent and revealing, within those familiar relationships he ushers in a connection with something transcendent: "A man has come floundering late in the night / to stand alone at the shore of a sleeping infant's face."
The poems capture life at the periphery, whether describing homelessness or incarceration, or even the universal experiences of aging and mortality, love and fear of love, all of which bring the speaker into a detached yet energized state of watching and waiting: "the door that was my grandfather into our passing lives / will arrive at a house where each of us is his own door / that opens on our first selves, fundamental together."
With intense lyricism, Thornton displays a mastery of craft so complete as to be nearly invisible. While stunningly beautiful, his imagery is also in such complete service to the deeper emotional resonance of each poem that it feels inevitable, and contributes to making the collection deeply moving.
About The Bridge from Day to Night by Governor General's Award-winning poet David Zieroth:
The title poem in David Zieroth's the bridge from day to night follows the speaker across the Second Narrows Bridge to North Vancouver, a well-worn moment in a daily commute that opens a window into the sublime: "from the apex / of the bridge with traffic flying / I look directly into / their deepest clefts." Such moments occur throughout the collection, as Zieroth explores the resonance built from layers of such ordinary moments as they accumulate throughout a lifetime—indistinct and imperceptible as they occur, but creating unseen undercurrents through memory and time.
In this temporal landscape, the natural world becomes a touchstone, both entangled in and standing apart from the speaker's internal narrative: "I brought from that forming hour a / precise smell of foliage: funeral wreaths / bore an acid scent." Shifting fluidly through time, the speaker grows from a child to understand, reflect and then outlive his parents. Finally, the collection lights on the incongruities and contradictions in death: "still later I kick his flattened corpse / to the gutter, and it skids on concrete / a broken valise, weightless / on this segment of the journey."
With his characteristic humour, subtlety and ability to find transcendence in the everyday, Zieroth traces the delicate strands connecting the most minute and familiar details to the most profound mysteries, giving voice to the unknowable.
.
.
.
This event is taking place on the unceded territories of the Musqueam, Squamish and Tseil-Waututh Nations.
Massy Books' downstairs event space is accessible! You can view the floorplan here: http://www.massybooks.com/accessibility/
Please feel free to reach out with any inquiries.
The event is all-ages.