Sh:lam (The Doctor) – Joseph A Dandurand at Massy Books
Event Navigation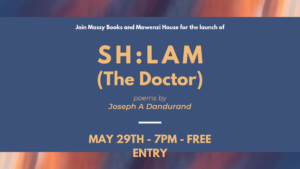 Join Massy Books and Mawenzi House Publishers Ltd. for the launch of SH:LAM (The Doctor), a new collection of poems by Joseph A Dandurand.
May 29th//7pm
Free Entry
This powerful collection, all too relevant today, tells a story that needs to be told. The author writes, "This is the truth of what has happened to my people. The Kwantlen people used to number in the thousands but like all river tribes, eighty percent of our people were wiped out by smallpox and now there are only 200 of us. As a Kwantlen man, father, fisherman, poet and playwright I believe the gift of words was given to me so I can retell our stories…"
These poems tell the story of a Kwantlen man who has been given the gift of healing but is also is a heroin addict.
Joseph A Dandurand is a member of Kwantlen First Nation located on the Fraser River, east of Vancouver, where he resides with his three children. He received a Diploma in Performing Arts from Algonquin College and studied theatre and direction at the University of Ottawa. He is the Director of the Kwantlen Cultural Center. He is the author of three other poetry collections, I Want, Hear and Foretell, and The Rumour.
This event is taking place on the unceded territories of the Musqueam, Squamish and Tseil-Waututh Nations.
Massy Books' downstairs event space is accessible! You can view the floorplan here: http://www.massybooks.com/accessibility/
Please feel free to reach out with any inquiries