A Collection of Self Portraits ( Queens, Warriors, Goddesses)
June 6, 2019 @ 7:00 pm

-

July 6, 2019 @ 7:00 pm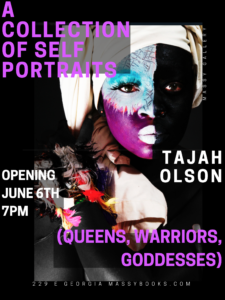 Join us June 6th for the opening of Tajah Olson's breathtaking series, A Collection of Self-Portraits (Queens, Warriors, Goddesses).
"My work is meant to be a celebration. It is a call to creative freedom. Using my own face and body, I aim to go BEYOND the ordinary, beyond stereotypes and negativity to a place where I can create beauty and achieve the extraordinary. My work is fierce. It celebrates the strength and creativity that allows us to endure through struggle and confront what frightens us."
About Tajah Olson:
Tajah Olson was born in Lilongwe, in the southeastern African country of Malawi. She spent her early years living in a crowded two-room shack in the sprawling township at the edge of the city, with her young single mom who made a living selling used clothing.
Tajah's maternal grandparents had been forced to flee neighboring Zambia for political reasons, settling in a village near Lilongwe. Though Tajah never knew her grandfather, she often visited the village, where her grandmother was a subsistence farmer, raising chickens, goats and growing her own food. "My artwork is inspired by my memories of home and my maternal grandmother Aswesi, strong, tough but yet kind hearted" Tajah says. "Most of all my art celebrates the strength and beauty of tribal African women."
Tajah's life changed at the age of 7, when her mother married a Canadian UNICEF employee who worked in youth AIDS prevention in Malawi. Tajah spoke only Chichewa until she met her new dad, but the change in her family circumstances gave her the courage to literally cross the busiest highway in the city of Lilongwe by herself from the township to an English-language school and take a front seat in a classroom. She was determined to learn English and never return to the crowded government school, where 100-200 children had to share desks or sit on the dirty broken cement floors in the classrooms. The principal of the English-Language school was so impressed he allowed her to stay unofficially until her parents enrolled her. Eventually, Tajah left Malawi and travelled to Canada, to live with her dad's family and attend high school in Victoria, on Canada's Vancouver Island. Her Canadian aunts and grandmother encouraged her creativity, plying her with paints and other art supplies and pushing her to try new things. She had always liked making things with her hands – she has an early memory of making little figures out of mud when she couldn't express her unhappiness as a child.
Tajah, who is now a Canadian citizen, was accepted into a degree program at the prestigious Emily Carr University of Art and Design in Vancouver. She has spent the years since graduation developing her art practice, while working a wide array of jobs (including teaching African dance and working as senior care taker).
A big break came when the City of Seattle bought Three of Tajah's works for their Municipal Tower Gallery. By then Tajah was working with large-scale photo-based images using herself as a model, using body paint and costume to depict powerful icons of African womanhood. She has shown her work in Vancouver and in New Orleans, and continues to develop her art practice.
She hopes that her message of strength, beauty and positivity resonate with women everywhere.
.
.
.
Unfortunately, this event takes place on the second floor of Massy Books and is not wheelchair accessible. For other accessibility inquiries please to send us a message, we will do our best to accommodate any needs.
This event is taking place on the unceded territories of the Musqueam, Squamish and Tseil-Waututh Nations.